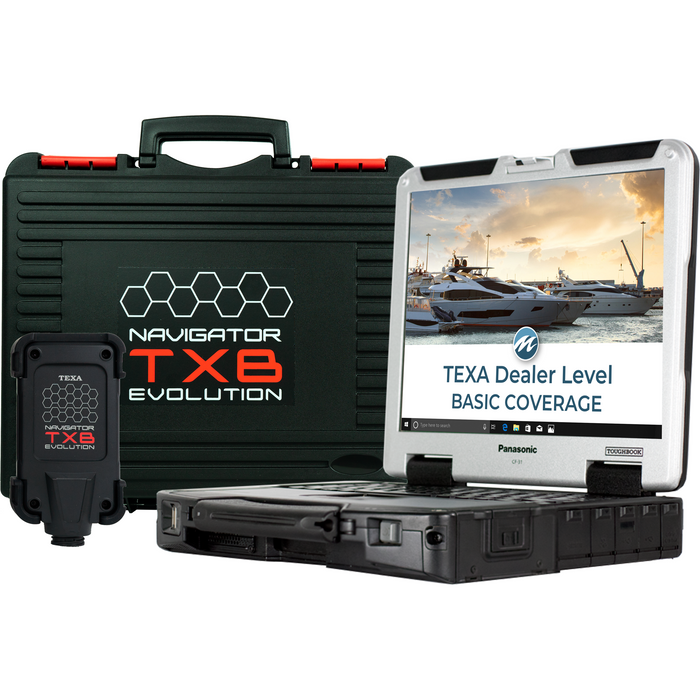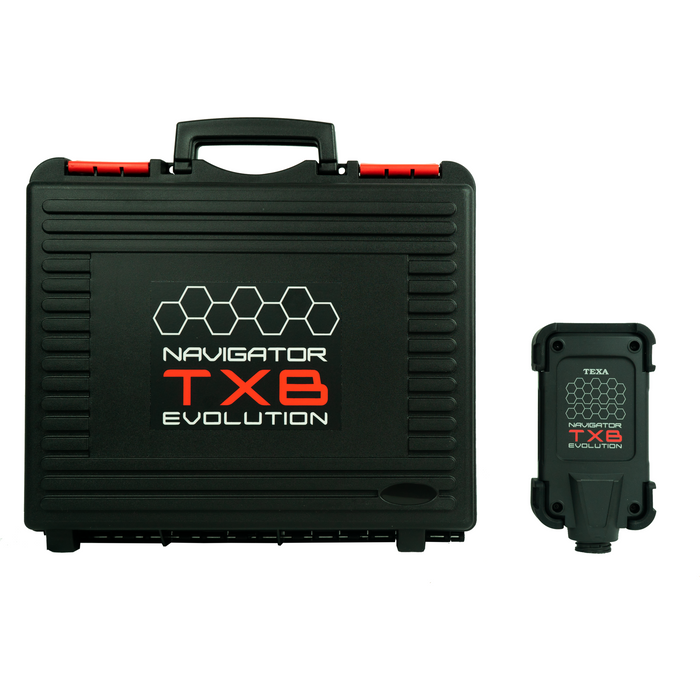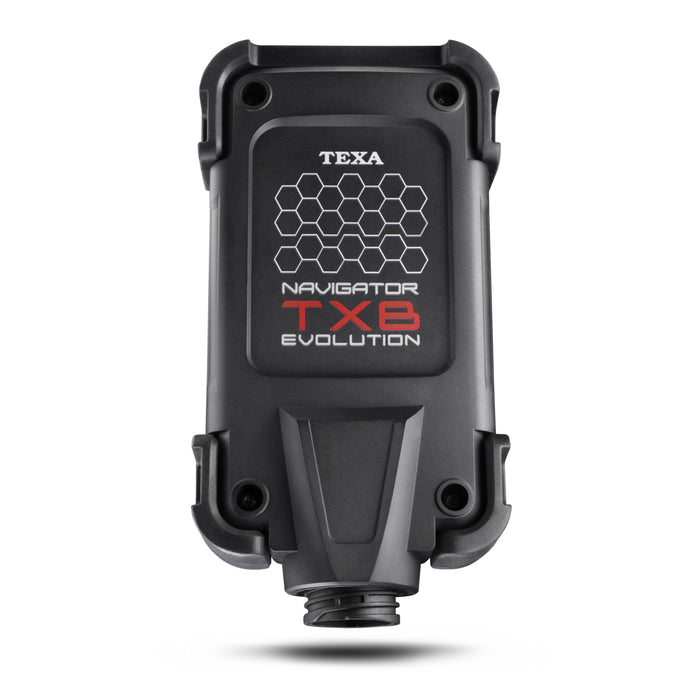 TEXA Dealer Level Marine Diagnostic Tool Basic Coverage
This is a TEXA dealer level marine diagnostics tool kit. For marine diagnostics, TEXA has the dealer level coverage you are looking for. When you combine the power of the marine diagnostic software, the TXB communication adapter, and the Panasonic Toughbook CF31, you have an unbeatable pairing.
Features:
Everything you need to get started on marine diagnostics
TEXA IDC5 marine basic software offers extensive coverage of popular manufacturers
Read and clear fault codes, adapt control units, activate components, perorm adjustments, reset values, engine run history, ECU/DTS command module configuration and "throttle-by-wire" calibrations, enhanced data paremeters, and more
Includes the most commonly-used diagnostic cables for marine applications
The TEXA Marine Diagnostics kit is the most advanced and complete diagnostic kit on the market. The tool also includes wiring diagrams, component locations, nominal values (correct values of components), programming capabilities, code reading, and dealer level diagnostics.
Kit Contents:
Panasonic CF31 Toughbook Laptop (see specifications below)
TEXA Marine Basic Software
TEXA Navigator TXB Evolution Interface Adapter
TEXA Marine Main Cable (AM01)
TEXA Marine Honda and Tohatsu Cable (AM02)
TEXA Marine Mercury and Mariner 2 Pin Cable (AM04)
TEXA Marine Mercury and Mariner 4 Pin Cable (AM05)
TEXA Marine Yamaha / Selva Cable (AM06)
TEXA Marine Volvo Penta KAD-TAMD Cable (AM09)
TEXA Marine Evinrude Cable (AM13)
TEXA Marine Volvo, MerCruiser, Crusader, and PCM 10 Pin Cable (AM14)
TEXA Marine Suzuki 4 Pin Cable(AM22)
TEXA Marine Volvo Penta 6 Pin Cable (AM40)
TEXA Marine OBD-M Cable for MerCruiser, Volvo, and More (AM43)
TEXA Marine Mercury, MerCruiser, Mariner, Cummins 2010 and Newer Cable (AM44)
The contents of this kit include the cables needed for the most common marine engines. However, there may be specific instances that require an additional cable. Use our Cable Finder tool or browse our cables to make sure you have the right cable for the job.
Inboard Engine Coverage:
Crusader
Ilmor
Indmar
Kodiak Marine
Marine Power
MerCruiser
Mercury Racing
Panther Airboats
PCM Marine
Sea-Doo
Volvo Penta
Outboard Engine Coverage:
Evinrude
Honda Marine
Johnson
Mariner
Mercury
Mercury Racing
Selva Marine
Suzuki Marine
Tohatsu Marine
Yamaha Marine
Personal Watercraft (PWC) Coverage:
Honda Marine
Kawasaki Marine
Sea-Doo (BRP)
Yamaha Marine
Videos:
TEXA Marine Basic
Frequently Asked Questions:
Are there any required annual fees?
No, there are no required annual fees. The software will work forever and never expire. You will only receive updates & support for 1 year, and after that it is $450 per year. You can also go "late" with no penalty.
I need different cables. Do you sell those?
Yes, we stock all the cables for TEXA.
For more information, visit our FAQ page.
| | |
| --- | --- |
| Part Number: | TEXA-MARINE-LAPTOP |
| Operating System: | Windows 10 Pro (Installed with all Updates) |
| Memory: | 8 GM RAM |
| CPU: | Intel Core i5 Processor |
| Connectivity: | Integrated Wi-Fi and Bluetooth |
| Storage: | 240 GB SSD (Solid State Drive) |
| Ports: | 3 USB Ports, 1 Serial Port, 2 PCMCIA Slots (1 Express), SD Card Reader, 1394 Port, Docking Port |
| Battery: | Lithium Ion battery holds charge for 2+ hours |
Panasonic CF-31 Laptop
This is truly the toughest laptop on the planet, but it's not just for show. It's designed to protect the sensitive hardware underneath, but the protection doesn't stop there. Inside is a shock-mounted hard drive to assure that your gear doesn't fail. Also, all the doors are waterproof to ensure long-lasting security for your expensive computer.
Technical Support
Our technical support team is staffed with both IT professionals and previous technicians. We have extended hours to cover both east and west coast customers, along with hours on Saturday. From technical issues with software to more complex issues needing assistance in diagnostic, we are here to help you.
Get Support
Cable Finder
The Marine Diagnostic Tools Cable Finder allows you to effortlessly find the appropriate cable for marine engines and vessels. Each listing includes the cable location and photos showing you where to connect, and links to purchase the correct cables.
Let's Go!
Questions?
If you have any questions about this or any other product, please don't hesitate to contact one of our Marine Diagnostic Tool experts at 866-551-6531 or by clicking below!
Contact Us